9th Annual New Music Concert at CLU
By Anonymous — Tuesday, March 15th, 2011
Event features the music of Michael Schelle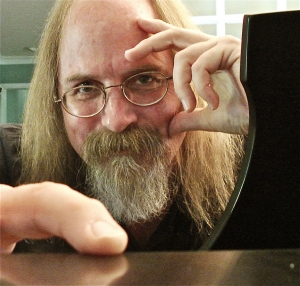 Michael Schelle
THOUSAND OAKS, CA. - California Lutheran University's 9th Annual New Music Concert will feature the music of two-time Pulitzer Prize nominee Michael Schelle.
CLU faculty, students and guest performers will present the concert at 8 p.m. Saturday, March 26, in Samuelson Chapel. Schelle, who has a theatrical and eclectic musical style, will participate in a question-and-answer session at the beginning of the event.
Schelle will play piano on "Prayer." His wife, Miho Sasaki, will be the featured pianist on "Straight, No Lithium," which Schelle wrote for her to perform. Commissioned for the 2010 Decay and Regeneration in the Arts symposium in Japan, the piece includes "regenerated" parts of two of Sasaki's favorite works by Brahms and Chopin and a final movement that "regenerates" her favorite Bach prelude.
The program will also include "Say Goodnight, Gracie," "Blue Plate Special," "Gimme Shelter" and "The Viola the Wind Swept Away." Other guest performers will include Lynn Angebrandt on cello, Darius Campo on violin and Amy Wilkins on harp.
More than 200 orchestras and professional ensembles across the United States and abroad including the Chicago Symphony, Minnesota Orchestra and St. Paul Chamber Orchestra have performed Schelle's work. Recent critically acclaimed international performances of his music include Kammerorchester Basel in Switzerland, the Kremlin Chamber Orchestra in Moscow and the Contemporary Music Ensemble of Tokyo.
Schelle has been the Composer-in-Residence at Butler University in Indianapolis for 30 years and is the founding director of the college's JCFA Composers' Orchestra, which is dedicated to the preservation and presentation of music by "not-dead-yet" composers. A frequent guest composer at universities and new music festivals across the country, he has received composition grants from many prestigious arts organizations including the National Endowment for the Arts, the Rockefeller Foundation and the American Symphony Orchestra League. He is also a restaurant critic and the author of a book on film music and was a finalist in the International Humour in Poetry Competition in Paris.
The chapel is located off of Campus Drive south of Olsen Road on the Thousand Oaks campus. Additional parking is available in the lot at the corner of Mountclef Boulevard and Olsen Road.
Donations will be accepted. For more information on the concert, call the Music Department at (805) 493-3306 or visit http://visit www.callutheran.edu/music. For more information on Schelle, visit http://www.schellemusic.com.