"Salvaged From Life: An Exhibit Under Glass" At The Discovery Gallery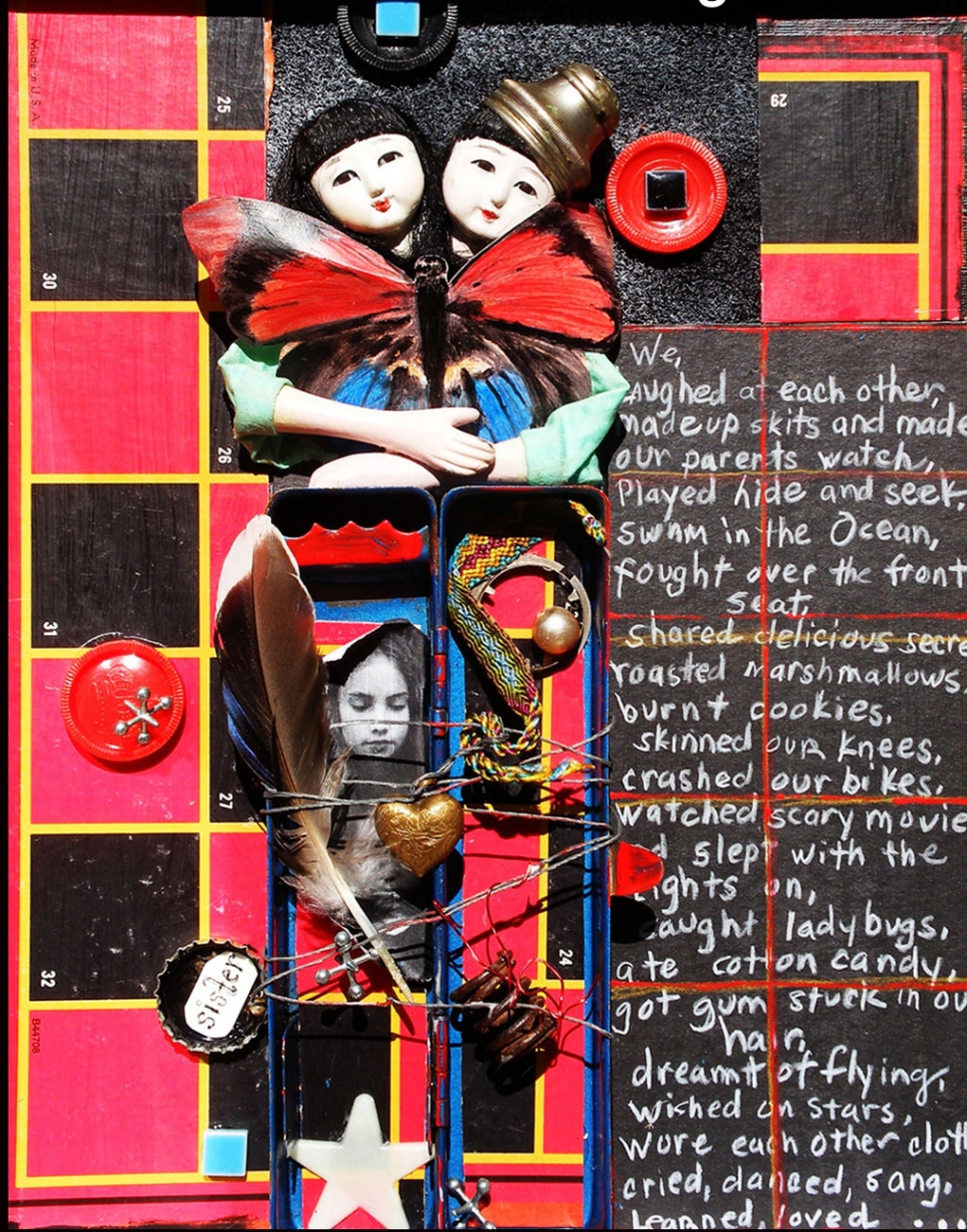 "Sisters" mixed media.
By Gazette Staff Writer — Wednesday, July 30th, 2008
Kathryn Karson Frey's exhibit, Salvaged From Life: An Exhibit Under Glass will be at the Discovery Gallery from August 1 – September 3, 2008 with an opening reception during First Friday Gallery Crawl on Friday, August 1 from 5 – 7 pm.
Traveling through the powerful tableaus "Salvaged From Life" is a journey through the human condition: our joys, pain, hopes and desires. Kathryn Frey's meticulous constructed boxes are in the words of the artist "glimpsing into someone's life." The viewer isn't a casual observer – the viewer is asked to engage, think and observe. Says Frey "I combine common and unique items with different art mediums to invent my own private view with the intent to document societal influences, reality, human interaction, egos and emotion "salvaged from life."
Frey has always considered the title "artist" to be a singular term for a wide variety of individuals who create. Although many artists have a "known style," an attempt to place her work into any one specific category cannot be done. Her works range from conventional art with recognizable images and proper usage of space, color and form to raw artistry with personal content, people's throw-a-ways, found materials and acquired objects. Frey uses "women's symbology" to connect her ideas and thoughts. For example, a thread symbolized "fate" among some cultures -- how Frey uses that thread can be fascinating as well as thought-provoking. She has also used skulls in the past, even though not as much now. Says Frey, "I wanted to show that we are all the same under our skin and skulls seemed to symbolize that very well."
Frey is a thirteen year resident of Ventura County and a native California from the Bay area. Her natural desire to create, sculpt, paint and draw was formed from her creative parents…even though she was told not to pursue arts because artists were a dime a dozen. She is mainly self-taught even though she took a couple of classes at Ventura College. The process of creating through artistic emotion is an absolute necessity in her life. Her work has been extensively accepted and shown at the Ojai Art Center and Ventura County galleries. She has won several awards for her pieces.
The Discovery Gallery is located at the Ventura Visitor's Bureau, 101 S. California St in downtown Ventura. Hours are Monday through Friday from 8:30 am to 5 pm; Saturday 9:00 am to 5:00 pm and Sunday from 10:00 am to 5:00 pm. For more information, call the Buenaventura Art Association at 805-648-1235 or visit their website at www.BuenaventuraGallery.org.