"Ojai Celebrates Art" & "Octoberfest German Benefit Lunch" celebrates "Ojai Day" at Ojai Valley Museum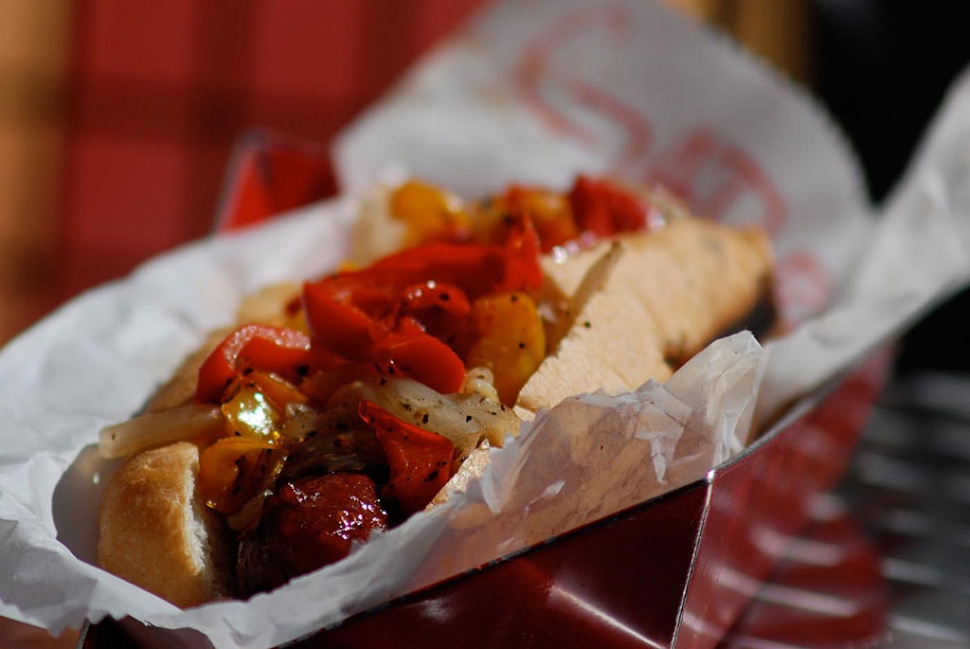 Brat with Spicy Peppers: Paul Sun Photos for Wurstküche
By Gazette Staff Writer — Thursday, October 8th, 2009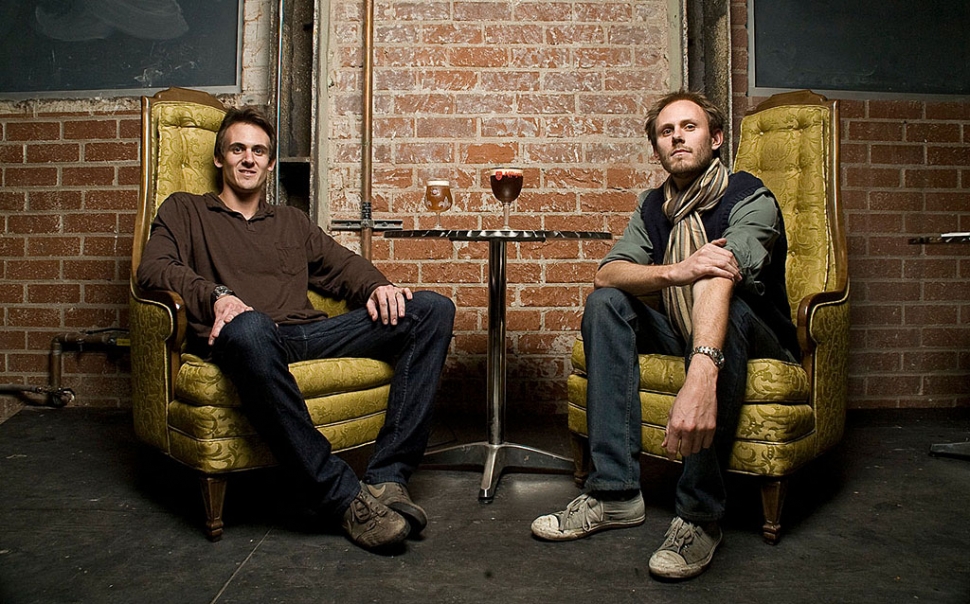 Tyler Wilson and Joseph Pitruzzelli: Paul Sun Photos for Wurstküche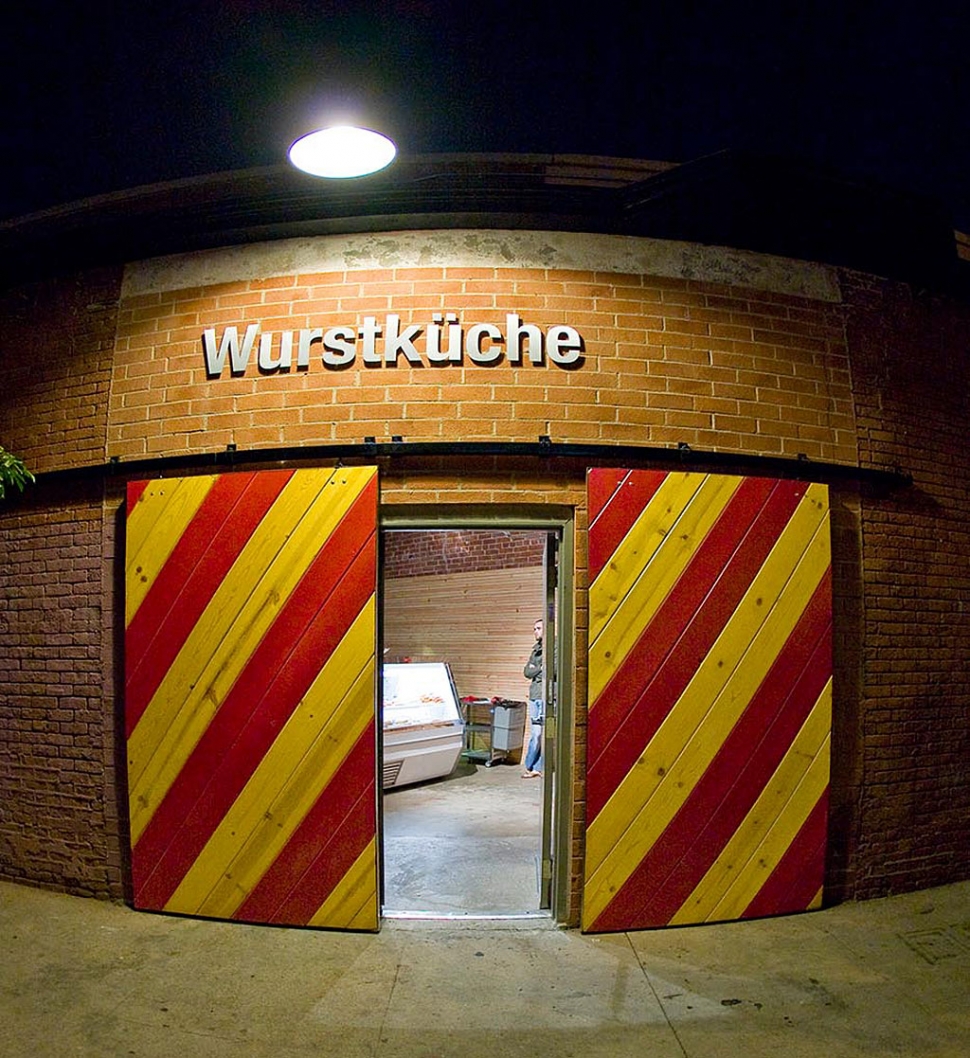 Wurstküche: Paul Sun Photos for Wurstküche
The Ojai Valley Museum will celebrate Ojai Day in a big way with the opening of its second annual juried exhibition - "Ojai Celebrates Art" AND an Octoberfest German benefit lunch inspired by Wurstküche Restaurant, an ultra-popular Los Angeles eatery, both on October 17. Want to say it correctly? It's Verst Kooka, and means Sausage Kitchen.
Ojai Celebrates Art features art pieces by forty artists from Ojai, Ventura, Santa Paula, Moorpark and Santa Barbara. Mediums included are ceramics, furniture, photography, painting, pastel and mixed media. Each piece must show a visual connection to the Ojai Valley, its people, history or natural environment. Roger Conrad and Fred Kidder are the curators. The Ojai-themed exhibit follows on the heels of the extremely successful Sergio Aragonés one-man show.
Happily, the museum is offering free admission on October 17. Open from 10 am to 5 pm, viewers can see the new exhibit in the gallery as well as the permanent museum collection. Judges are Alice Matzkin, Richard Matzkin and Joseph Sohm. The winning artists will be announced at 4 pm and will receive cash prizes sponsored by Frank and Lynn Kirk (First Prize), John and Ginger Wilson (Second Prize), and Tony and Barbara Hirsch (Third Prize). All works will be for sale, with a portion of the proceeds donated to the museum.
Bratwurst, German and Belgian beers, and soft drinks will be served from 11 am until 4 pm. Seating will be at traditional long tables in the museum's back patio. Children are welcome. Profits from this event will benefit the Ojai Valley Museum operating budget.
The Wurstküche, "an exotic sausage grill," opened in Los Angeles last November and became an overnight sensation. Lines began trailing down the street, employees grew from two to thirty-two, and the eatery has just been named to Jonathan Gold's 99 Essential L.A. Restaurants in the LA Weekly. It has over 600 web reviews—all of this in less than a year and with owners in their twenties. Customers rave about the imported beer collection, and Germans say it's "the best beer we've had outside of Germany."
How did Ojai get so lucky? Tyler Wilson and Joseph Pitruzzelli, restaurant owners and cousins, have been spending time with Ojai grandparents John and Ginger Wilson since early childhood. John and Ginger are long time benefactors and supporters of the museum.
A variety of bratwurst, including vegetarian, with trimmings of gourmet mustard, caramelized onions, sauerkraut and peppers, will be provided. And, again, imported beers and specialty soft drinks! Wurstküche's website is www.wurstkucherestaurant.com.
Great food and great art—stop by the museum on Ojai Day. Ojai Valley Museum is located at 130 W. Ojai Avenue. For additional information call (805) 640-1390.