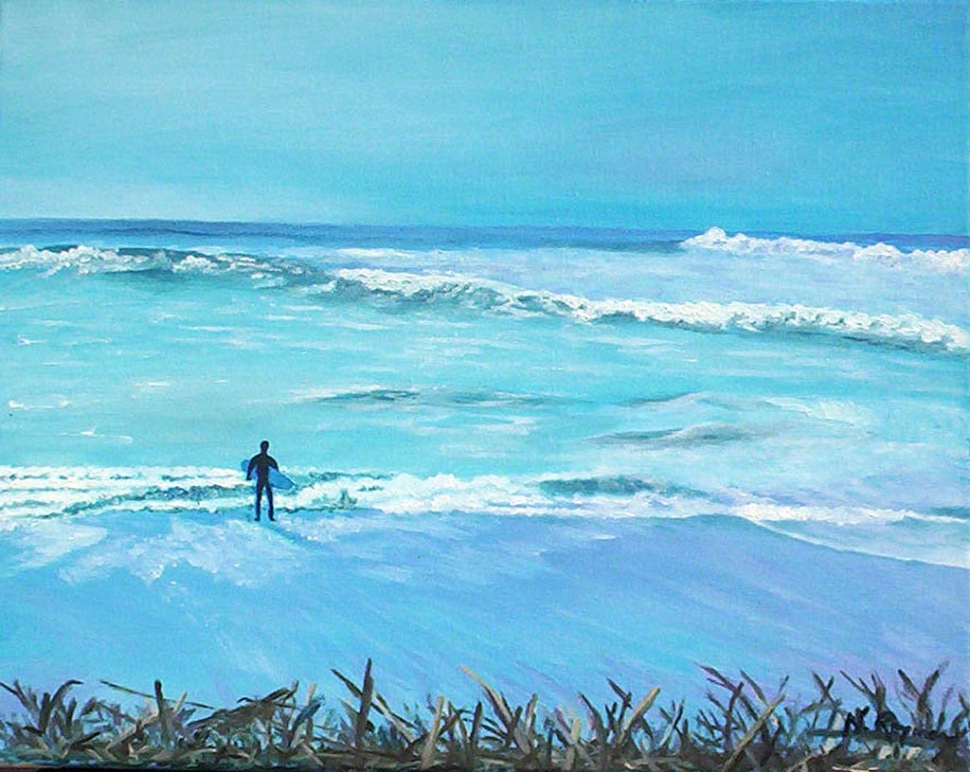 "After the Storm" by Nancy Raymond.
By Gazette Staff Writer — Wednesday, May 27th, 2009
Paintings By Nancy Raymond At The Discovery Gallery
Nancy Raymond's "Inspirations", an exhibition of original oil paintings will be at the Discovery Gallery from Friday, June 5 to Wednesday, July 1, 2009. There is an opening reception on Friday, June 5 from 5 – 8 pm. for First Friday's Ventura Gallery Crawl.
Vast blue oceans, peaceful Sunday walkers on the promenade or a frequent feathered visitor to her backyard are what inspire Raymond to create the images of her first solo show. These are simple pleasures in life we sometimes over look when hurried with our day to day scheduled activities or appointments. At a place in her life with time to reflect on what brings her calm and a sense of peace, Ventura's beauty, a place she has called home for 30 years, is a muse.
Raymond began painting when she joined the Newport Art Association in Rhode Island. Always interested in scientific illustrations in school, she paid attention to details in her drawings, but did not fully dive into her artistic tendencies until her husband was deployed with the Navy in 1970. Raymond didn't have a lot of time on her hands. A new mother of two kept her busy, but this was a creative outlet she could enjoy at home as well a way to meet some new friends with similar interests.
Traveling the world for years, Raymond artistic involvement was often pushed to the side but never left her. While living in Italy she was commissioned to paint a children's mural in the Navy Child Care Center. In 1979 Raymond and her family landed in Ventura. By this time a mother of 3, she worked full time as a Executive Assistant, Publisher and a Typographer until her retirement 4 years ago. With retirement, came time to enjoy the beauty of her natural surroundings. Looking out from the beach, enjoying the surfers, bike riders and families walking along Surfers Point in Ventura led her back to the easel. These vistas compose most of the images in Raymond's paintings, with a few pieces from travels around California. Many of the images in Raymond's views are so possibly over-looked on a daily basis, but each of her scenes helps you to take a longer look at a beautiful place. Each image allows us to take a deep breath and reminds us to take time for inspirations.
This is Raymond's first solo exhibition with the Buenaventura Art Association (BAA). Raymond has been a member of BAA for four years.
The Discovery Gallery is located at the Ventura Visitor's Bureau, 101 S. California St in downtown Ventura. Hours are Monday through Friday from 8:30 am to 5 pm; Saturday 9:00 am to 5:00 pm and Sunday from 10:00 am to 5:00 pm. Receptions on First Friday's from 5:00 to 8:00 pm. For more information, call the Buenaventura Art Association at 805-648-1235 or visit their website at www.BuenaventuraGallery.org