"Golden Days And Starry Nights" Paintings By Ron Zolkover At Harbor Village Gallery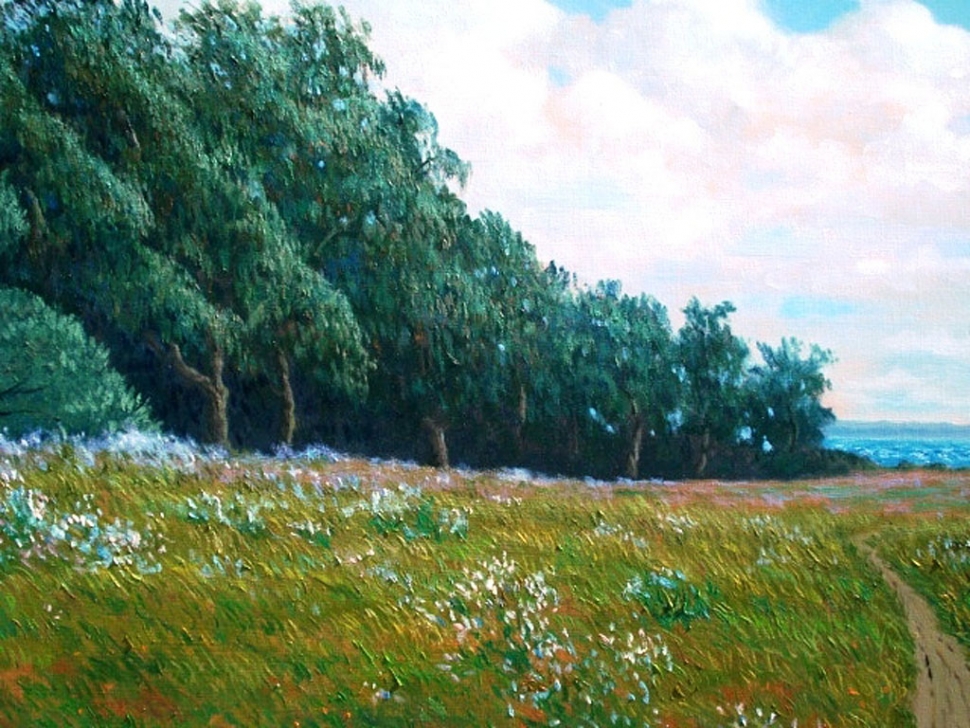 "After the Storm" oil painting by Ron Zolkover.
By Gazette Staff Writer — Wednesday, April 21st, 2010
Ron Zolkover's collection of oil paintings "Golden Days and Starry Nights" will be exhibiting at the Harbor Village Gallery from Wednesday, May 12 to Sunday, June 13, 2010. Artist Reception will be held on Saturday, May 15, 2010 from 5 – 8pm.
Zolkover leads us on a guided tour of our golden state's striking landscapes. His exuberant brush strokes capture warm western lights and fresh summer days. Created outside in a plein-air style, his paintings are fresh from the scene.
A passionate Californian native, Zolkover has spent some time sailing and surfing, "The sea has permeated my entire being," states the artist. His work reflects his innate connection with the sea and nature. He strives to catch lively impressions of his surroundings and the moment. Painting has become a refuge and obsession, releasing his creative side, bringing a new level of enjoyment to his life.
A graduate from the University of California Santa Barbara Art runs through his blood; his grandfather was a dexterous artist, inspired by the early impressionists. Zolkover is primarily a self-taught artist who has been focusing on painting throughout the past seven years. In Santa Barbara he has attended occasional workshops with John Comer and Larry Iwerks. His art is a journey, rejoicing in the "perfection in the moment", states the artist, rather than focusing on making each work a masterpiece.
Nature has always held a prominent position in his life, which reflects his work in the plein-air manner. Only in the midst of the free outdoors do Zokover's inspirations spring forth. He is a member of the newly formed Ventura Botanical Gardens and will be donating fifteen percent of his proceeds to the organization.
Walking through the exhibit, an excursion around California, you hear power of the surf, the barking sea lions, and the distant soaring sea birds.
This is Zolkover's third solo exhibit with the Buenaventura Art Association.
The Harbor Village Gallery is located at 1591 Spinnaker Dr., entrance # 3 in the Ventura Harbor Village, next to the big lawn. Open Wednesday through Monday from 12 to 5 p.m. For more information, call the gallery at 805-644-2750 or visit www.harborvillagegallery.com or www.buenaventuragallery.org