"Ethel Percy Andrus: How One Woman Changed America" at Ojai Valley Museum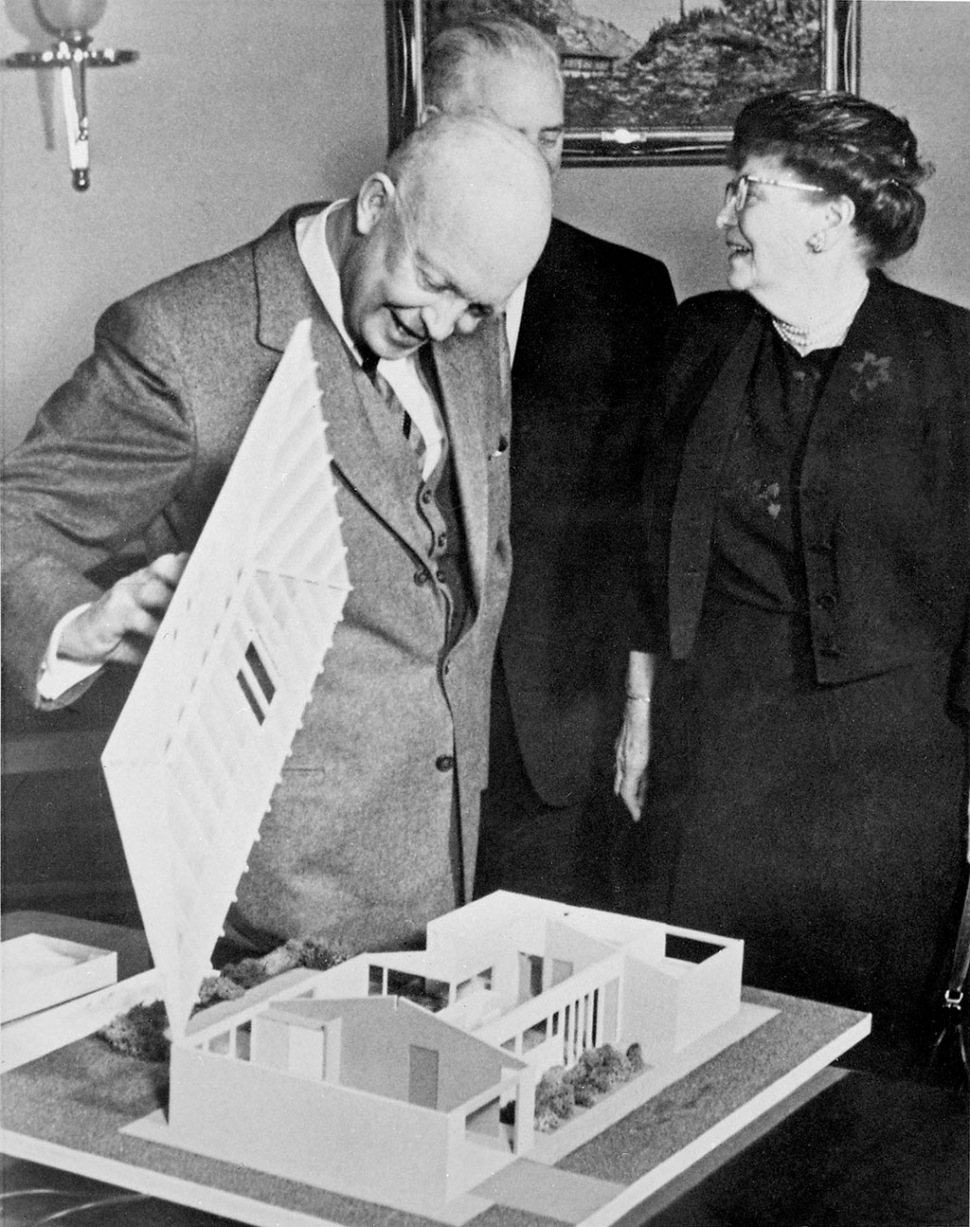 DR. ETHEL PERCY ANDRUS AND EISENHOWER: Andrus and President Eisenhower looking at "Freedom House," a universal design home that would allow older people to age in place. Courtesy of: The Gables of Ojai Archives
By Ojai Valley Museum — Monday, June 23rd, 2014
June 28th through September 14, 2014, Opening Reception - Sunday, June 29th 5 to 7 p.m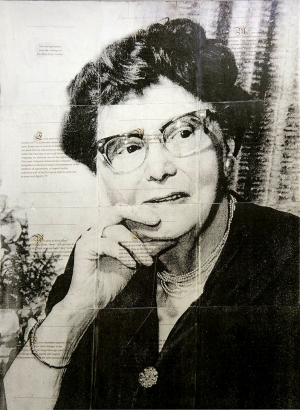 ANDRUS PORTRAIT: Mixed Media by Artist Mike Saijo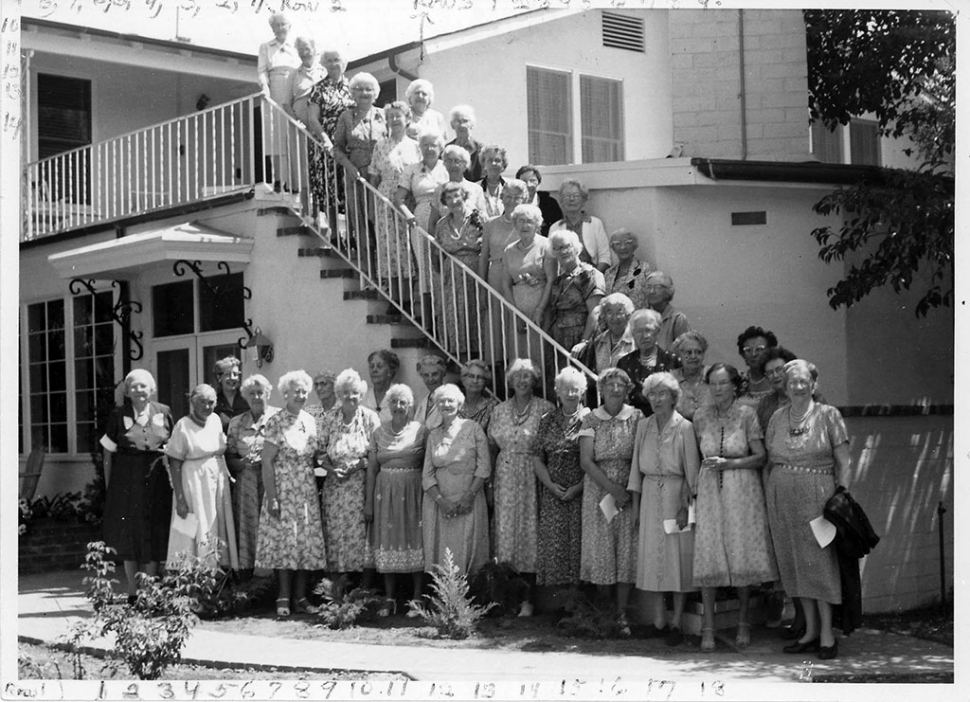 FIRST GREY GABLES RESIDENTS: Residents of Grey Gables were committed to Dr. Andrus's vision of the older years as a time of growth and service to others. Courtesy of: The Gables of Ojai Archives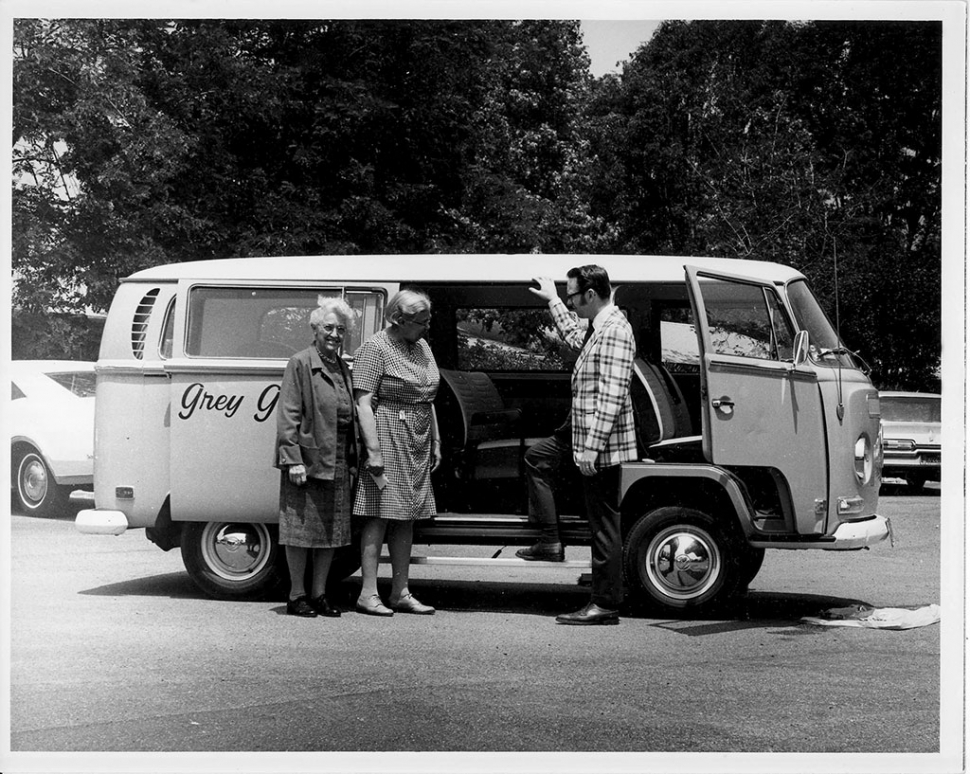 GREY GABLES MINI VAN: To service the valley's growing senior population, Gray Gables administrator Dick York proposed several NRTA-AARP outreach programs: meals-on-wheels, a senior center, a retired senior volunteer program, and a mini-van transportation service. Courtesy of: The Gables of Ojai Archives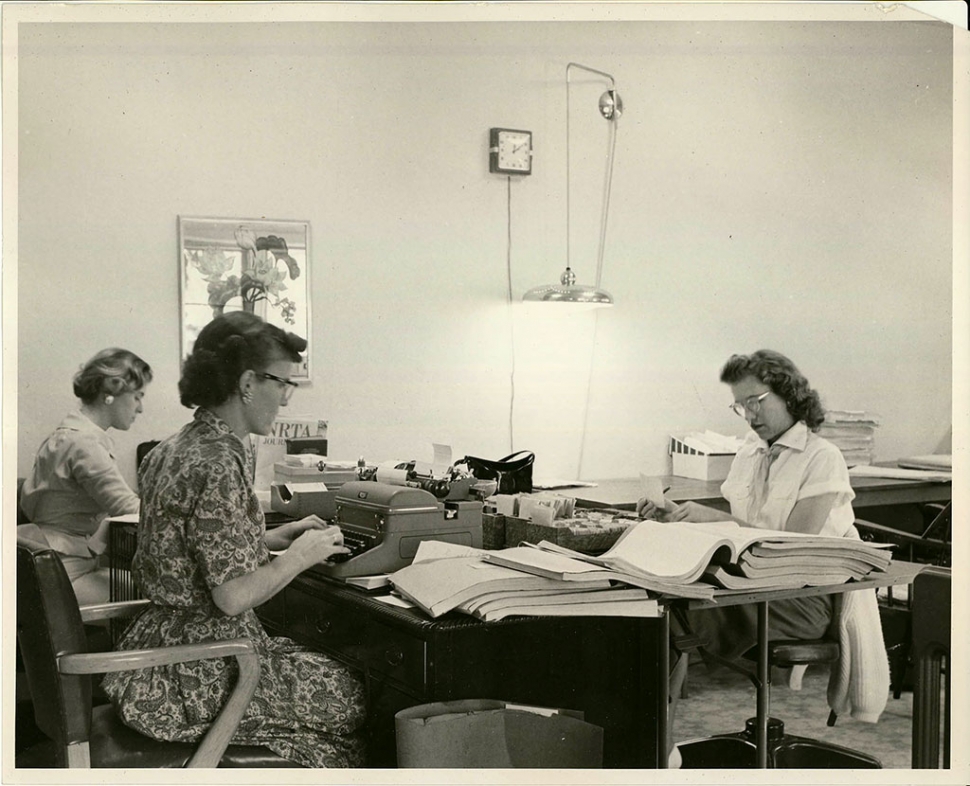 OFFICE NRTA-AARP: In 1960, Dr Andrus constructed a new office building across from Grey Gables on Montgomery Street. It operated 24 hours a day with over 200 employees making NRTA-AARP Ojai's largest employer at the time. Courtesy of: The Gables of Ojai Archives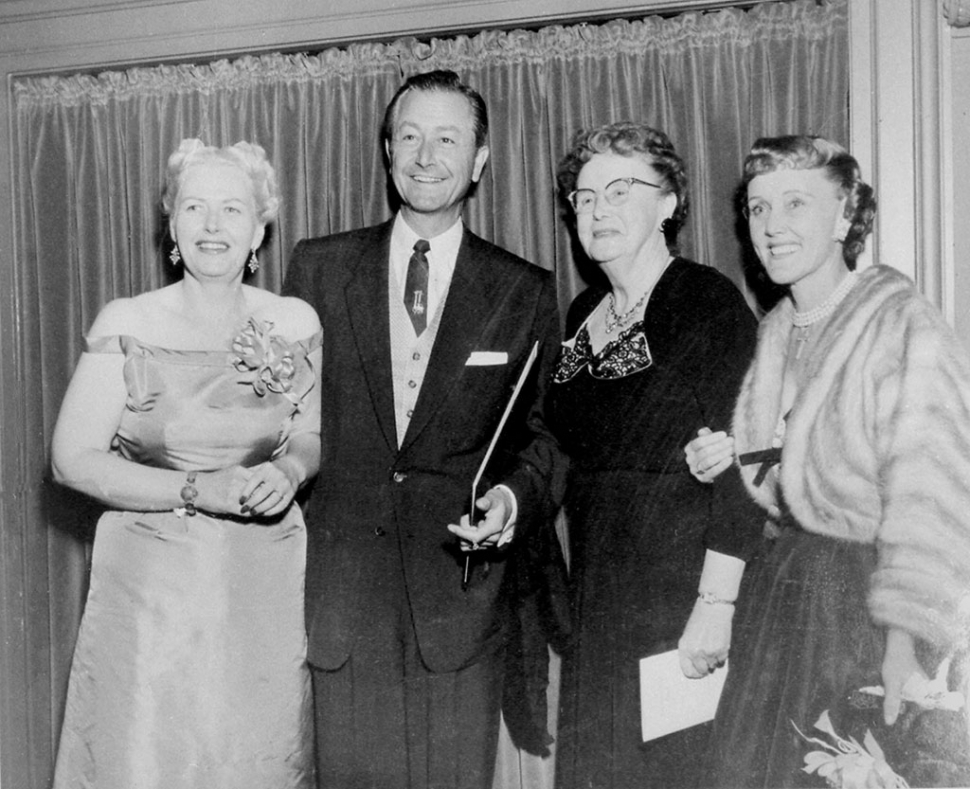 DR. ANDRUS AND THE ROBERT YOUNGS: Shows Andrus with her former Lincoln High School student Robert Young and his wife Betty (far right). Courtesy of: AARP Archives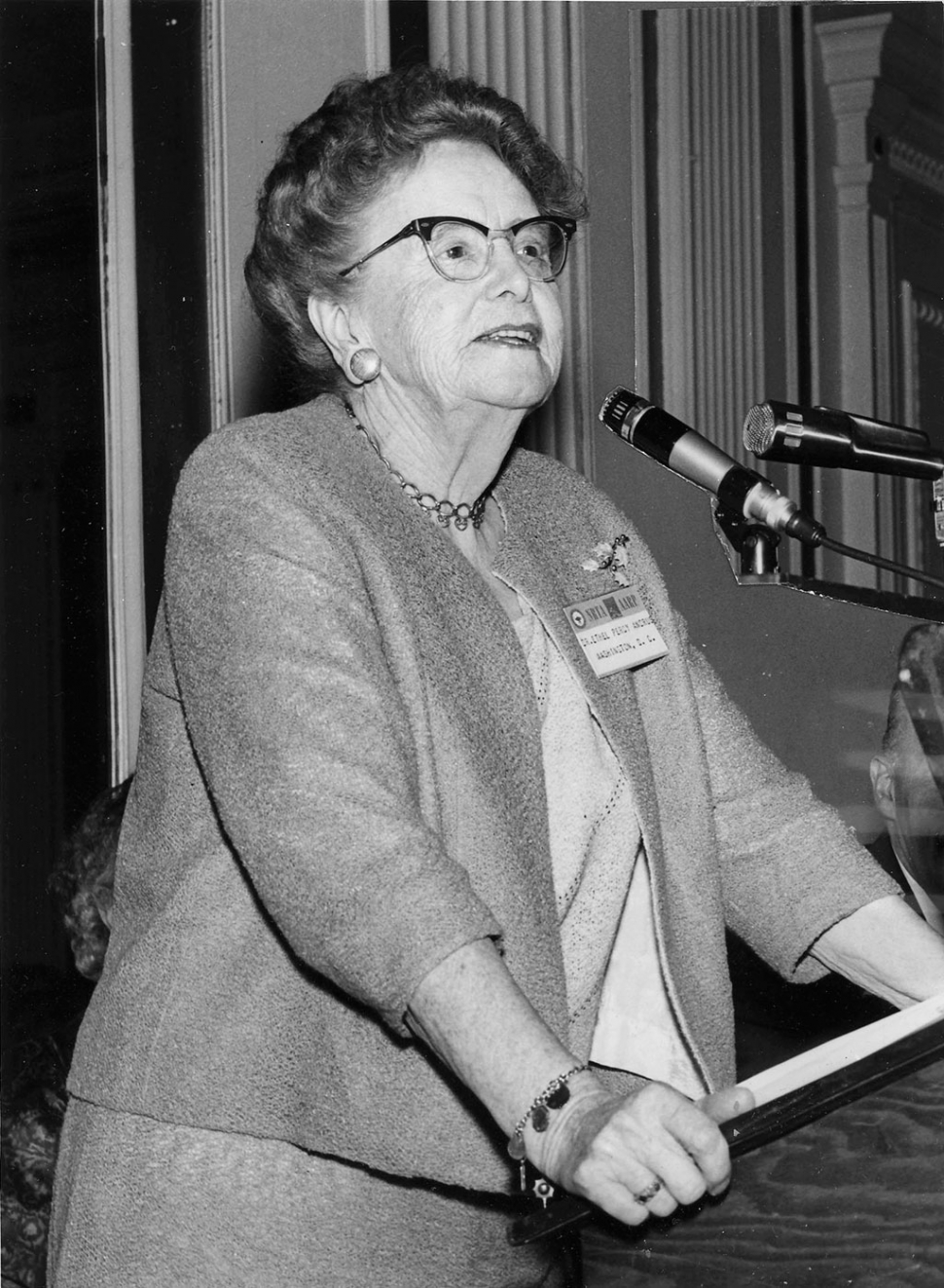 DR. ETHEL PERCY ANDRUS: Educator, Social Innovator, Humanitarian - Dr. Ethel Percy Andrus, Founder and President of NRTA-AARP, testifying before the Kefauver Committee on Hearing Aids, April 19, 1962. Courtesy of: Ojai Valley Museum Archives
An original history exhibit, "Ethel Percy Andrus: How One Woman Changed America," opens June 28th in the Ojai Valley Museum's Rotating Gallery. This one-person show is the culmination of three year's of research on Dr. Ethel Percy Andrus by local historian Craig Walker. He has written articles and given lectures on this Ojai woman who created social change for senior citizens in mid-century America. From her office in Ojai at Grey Gables of Ojai she founded the American Association of Retired Persons (AARP) in 1958.
Wall texts and accompanying photographs serve to illustrate Dr. Andrus' impact across America and for retired Americans everywhere. The exhibit tells the story of her life as a social innovator, an educator and a cultural visionary. In addition to archival materials, texts and historic photographs, the exhibit includes mixed media artworks by Los Angeles artist Mike Saijo.
The upcoming show will highlight milestones suchas her distinguished career as a high school principal and her eventual attention to the plight of retired teachers when she discovered a former colleague living in a chicken coop. This particular indignity galvanized her into action; she founded the National Retired Teachers Association (NRTA) in 1947 with three goals: livable pensions, healthcare and affordable housing.
In 1954, Dr. Andrus moved the NRTA to Ojai and founded Grey Gables, a revolutionary retirement community that became a national model. Andrus developed the nation's first group health plan for retirees. In 1958 she founded AARP and expanded the NRTA health plan to include all retired persons. Her success with the NRTA-AARP helped pave the way for Medicare in 1965.
Championing her path of social change, Dr. Andrus then mounted a relentless legislative campaign to end discriminatory practices against older Americans, including mandatory retirement laws. She also created travel programs, a mail-order prescription drug service, continuing education programs, and widespread discounts for AARP members. Most importantly, she played a key role in transforming retirement into a time of independence, dignity, and purpose.
The exhibition also features her years as an educator. Dr. Andrus served as the first woman principal of a large urban high school in California. In a profession dominated by men, she emerged as a leader, helping to shape the modern comprehensive high school. She was an innovator in the areas of vocational education, student government, elective classes, extracurricular activities and school guidance programs. Dr. Andrus had a lasting impact on her students, many of whom went on to excel in life. Stories about some of her more notable students are also a part of the exhibit.
This groundbreaking historyexhibit is a coordinated effort by researcher Craig Walker, writer Mark Lewis and Museum Exhibit Committee members Laura Crary and Claire Hill. Museum Director, Michele Ellis Pracy, organized and integrated the contributed materials to create the exhibit.
The exhibit is underwritten byThe Gables of Ojai and AARP. Additional sponsors include: Ventura Roofing and AM-PM Rooter and Plumbing.
The Ojai Valley Museum, established in 1967, is generously supported in part by museum members, private donors, business sponsors and underwriters, the Smith-Hobson Foundation, Wood-Claeyssens Foundation, City of Ojai, Ojai Community Bank, Rotary Club of Ojai, Ojai Civic Association and a grant from the Heritage Fund of Ventura County Community Foundation.
The museum is located at 130 W. Ojai Avenue, Ojai, CA. Admission: Free for current 2014 members, adults - $5.00, children 6–18 - $1.00 and children 5 and under – free. Gallery hours are Tuesday – Saturday 10 am to 4 pm, Sunday, noon to 4 pm. Tours are available by appointment. Free parking is available off Blanche Street at back of museum.
For more information, call the museum at (805) 640-1390, ext. 203, e-mail ojaimuseum@sbcglobal.net or visit the museum website at: Ojai Valley Museum.org or find us on Facebook at Ojai Valley Museum