"By Land And By Sea" Paintings By Phyllis Solcyk At Harbor Village Gallery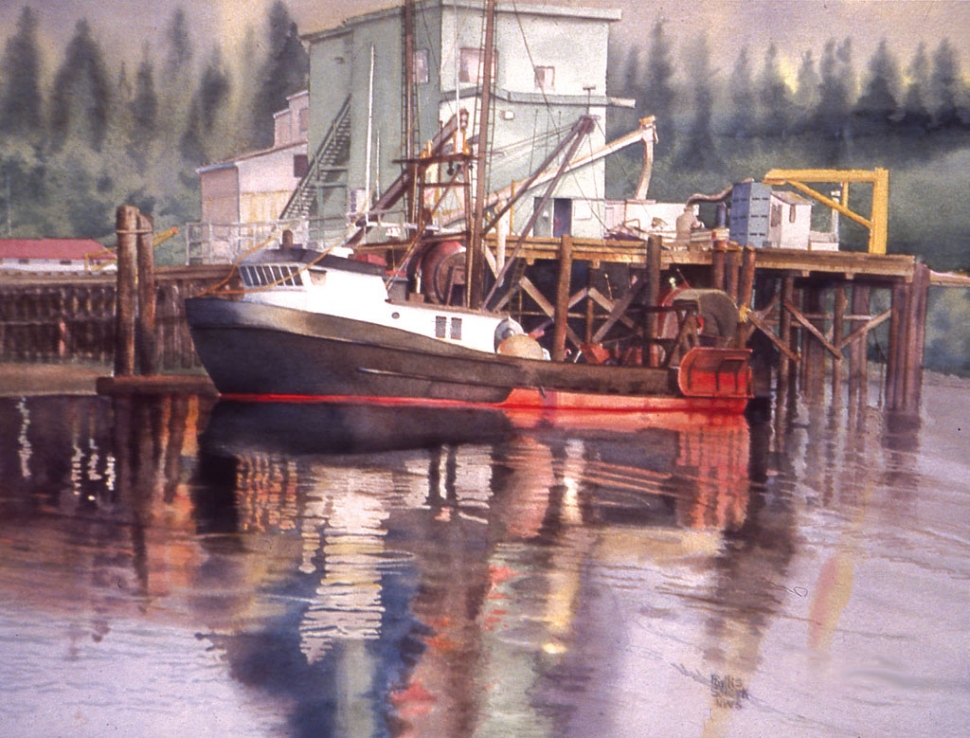 "6 a.m. Coos Bay" by Phyllis Solcyk
By Gazette Staff Writer — Thursday, March 4th, 2010
Phyllis Solcyk's exhibit of paintings, titled "By Land and By Sea" at the Harbor Village Gallery, will show from Wednesday, March 31 to Sunday, May 9, 2010. Artist Reception will be held on Friday, April 9, 2010 from 5 – 8pm.
Solcyk's fine paintings offer soft and attentive details with an exquisite glow of mastery. Her realistic compositions include pristine Tall Ships, Coast Guard Cutters, Tugs, Fishing Boats and Seascapes. Each painting pulls you in for a closer look, revealing carefully crafted details.
Solcyk began her art education at the Chouinard Art Institute on scholarship. Shortly after she began work with Disney Studios! Thrilled to have the opportunity to work with Disney she assisted on the films "Lady and the Tramp" and "Sleeping Beauty" among other projects. After Disney she began illustrating for the Aerospace Industry, and her interests turned to science and space.
Solcyk was traditionally trained in oils until an allergic reaction shifted her concentration to watercolors, gouaches, acrylics and other water-based mediums. A blessing in disguise, she now thoroughly enjoys painting and teaching watercolors. Teaching for the past twenty-five years, Solcyk is fulfilled and inspired by helping other artists, from beginner to advance, master their techniques and visions. In this endeavor, she is blessed to learn just as much from them as they learn from her.
Solcyk is a member of many associations and clubs including: The National Watercolor Society (past President), The California Art Club, The International Society of Marine Painters, Buenaventura Art Association, to name a few. Her paintings are found in permanent collections of the Smithsonian Institute and the Library of Congress. Recently her work has been added to the United States Coast Guard's permanent art collection, which is on tour around the world.
This is Phyllis Solcyk's first solo exhibit with the Buenaventura Art Association.
The Harbor Village Gallery is located at 1591 Spinnaker Dr., entrance # 3 in the Ventura Harbor Village, next to the big lawn. Open Wednesday through Monday from 12 to 5 p.m. For more information, call the gallery at 805-644-2750 or visit www.harborvillagegallery.com or www.buenaventuragallery.org