'Snap Judgment' host to perform in T.O.
By Gazette Staff Writer — Monday, June 30th, 2014
Hit NPR show features 'storytelling with a beat'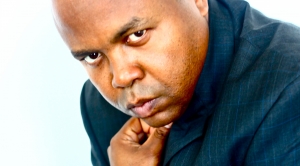 Glynn Washington
THOUSAND OAKS, CA - The host of a hit NPR show about people who make life-altering decisions in a matter of moments will bring his brand of raw, musical and mesmerizing storytelling to the Thousand Oaks Civic Arts Plaza at 8 p.m. Friday, July 18.
KCLU will present Glynn Washington in the Janet and Ray Scherr Forum Theatre. Washington will give a behind-the-scenes look at "Snap Judgment," sharing new pieces as well as fresh takes on stories KCLU listeners will find familiar.
Washington defines the show as "storytelling with a beat." The "beat" refers not only to the program's pervasive musical accompaniment but also to the cadence and rhythm of the eloquently told tales in the fast-paced show.
"Snap Judgment" took shape in 2007 when Washington, then director of Young Entrepreneurs at Haas at the University of California, Berkeley's Haas School of Business, entered the Public Radio Talent Quest sponsored by Public Radio Exchange and the Corporation for Public Broadcasting. He was one of three contestants out of 1,400 entries to receive $10,000 to produce a pilot of his radio show. Three years later, the pilot premiered, and Washington launched a series of "Snap Judgment" television specials.
Washington, who has a bachelor's degree in political science and a juris doctorate, has helped create and implement youth policy in Oakland, where he lives with his wife and two children. He was a member of former Oakland Mayor Ronald Dellums' Youth Services Task Force and served on the grantee committees for both the Fund for Children and Youth and the Oakland Measure Y anti-violence initiative.
As with his nonprofit work, "Snap Judgment" tries to put people in someone else's shoes.
"How you actually move policy is by getting people to understand the story you're telling," Washington told his alma mater, University of Michigan Law School. "One thing I took away from law school is that whoever tells the best story wins."
The show airs on KCLU Fridays at 9 p.m. and Saturdays at 2 p.m. The award-winning NPR affiliate, a community service of California Lutheran University, serves about 113,000 listeners on 88.3 FM in Ventura County, 102.3 FM and 1340 AM in Santa Barbara County, 89.7 FM on the Central Coast and 92.1 FM in San Luis Obispo.
The Civic Arts Plaza is located at 2100 E. Thousand Oaks Blvd. Tickets are $40, plus applicable service charges. They are available through KCLU, the Civic Arts Plaza box office and Ticketmaster.