'Antony and Cleopatra' set in fascist '30s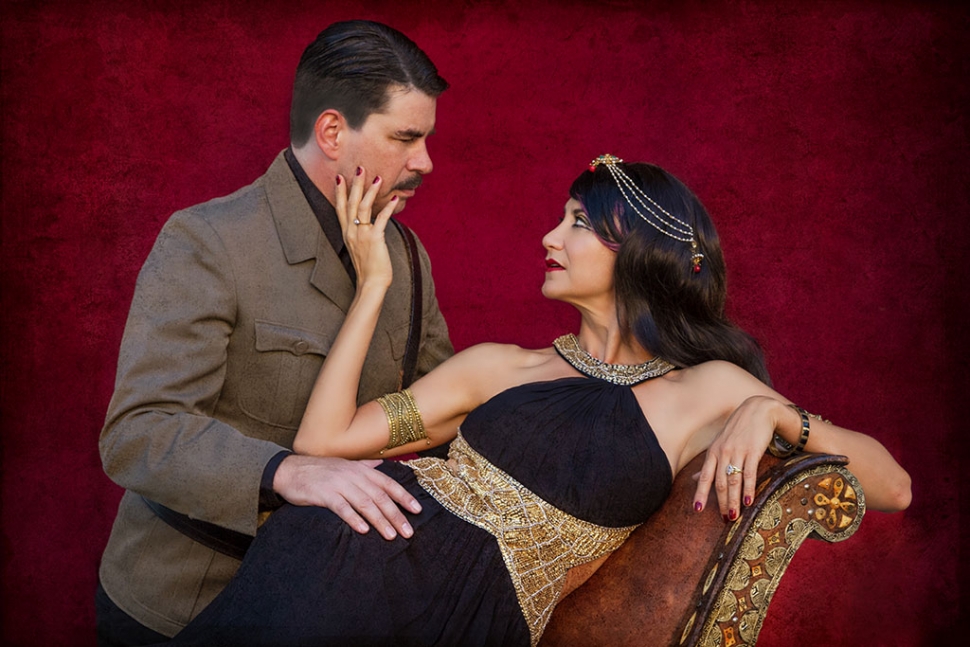 Shad Willingham as Antony and Cynthia Beckert as Cleopatra
By Gazette Staff Writer — Wednesday, July 2nd, 2014
Kingsmen company presents the tragedy for first time
THOUSAND OAKS, CA - The Kingsmen Shakespeare Festival will feature "Antony and Cleopatra" for the first time during its 18th annual season.
Shakespeare's classic historical tragedy will be performed at 8 p.m. Fridays, Saturdays and Sundays from July 18 through August 3 in scenic Kingsmen Park at California Lutheran University in Thousand Oaks. The festival grounds open at 5:30 p.m. for picnicking and pre-show entertainment begins at 6:25 p.m.
The play focuses on the great love story of the Egyptian queen Cleopatra and the Roman general Marc Antony. The Kingsmen production, under the direction of award-winning director and actor John Slade of Ojai, is set in the fascist world of the 1930s amid the clash of cultures and a treacherous world of shifting alliances.
A Kingsmen festival regular, Slade directed his own adaptation of "King Henry IV" in 2008 and "King Henry V" in 2004. He played the drunken butler in "The Tempest," Friar Laurence in "Romeo and Juliet" and the title role in "King Lear." This summer, he is concurrently performing his full-length concert play, "I Sing Walt Whitman," throughout the country. His theater career began more than 40 years ago as a student at the University of Michigan, where he and classmate Gilda Radner founded a repertory company that juxtaposed drama, comedy and music.
Shad Willingham will return to the festival stage as Antony, having previously appeared in "Much Ado About Nothing" and "Romeo and Juliet." Willingham has performed with the Idaho, Lake Tahoe, New Orleans and Oregon Shakespeare festivals. He teaches acting at California State University, Northridge.
Cynthia Beckert will make her Kingsmen debut as Cleopatra. She has performed at Laguna Playhouse and with Santa Barbara's Ensemble Theatre Company, Georgia Shakespeare and the Alabama Shakespeare Festival. She is a member of the all-female Los Angeles Women's Shakespeare Company.
Justin Michael Terry and Elyse Mirto will both return to the festival stage to play Octavius and Octavia.
The Kingsmen Shakespeare Company is the professional theater company of CLU. In addition to producing one of the area's most popular outdoor theatrical events, it provides apprentice programs, an educational tour program and summer youth theater camps.
Guests should bring low-back lawn chairs or blankets to sit on and dress warmly. Admission is $20 for adults and free for those under 18. For information or advance lawn box reservations, call 805-493-3014 or visit http://www.kingsmenshakespeare.org.