Obituary
Angela Rangel (1949-2022)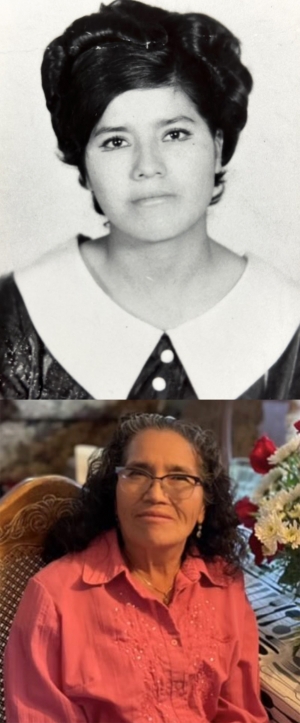 Angela Rangel (1949-2022)
Angela Rangel was a beloved, wife, mother, grandmother, great grandmother sister, aunt and friend. She left this world suddenly to be with the Lord on December 22, 2022, at the age of 73.
She was born on June 22, 1949, in Santa Maria De Los Angeles, Jalisco, Mexico to Isidoro Hernandez and Guadalupe Ramos. She was the fourth child out of ten children. At the age of seven, her family relocated to Tijuana Mexico.
Her sister, Manuela, recalls our mother as a happy child who liked to be around her family, as well was a hard worker.
At the age of 19, Angela chose to be brave by being the first to venture to America to help her parents provide for the family - first to San Diego then to Ventura County with her loving cousin Fita, the wife of Jesus Rangel. Shortly after, Angela met Jesus's brother Ramiro Rangel, whom she later married on July 22, 1972. Angela and Ramiro had 5 children.
Angela displayed a life that loved the Lord and worshipped him with her whole heart. She adored her grandchildren and great grandchildren and would do anything for them.
Angela will be remembered as strong and independent, never holding back from speaking her heart so as to love all unconditionally. Angela daily recognized the very many blessings from God, including having much love from her husband & family.
Angela enjoyed spending time at church and being with her family and friends. She also enjoyed outings to Chumash Casino and sending beautiful messages through phone calls, text and social media to family and friends.
Angela worked hard as a homemaker and as an employee in the community. By example, she taught her family "where there is a will there's a way". Though Angela did not drive, by her love & determination, she managed to find a way to get wherever she could to be productive and a blessing. Even with her limited English, she always found a good job. And after all of these years Angela still managed to use much of her wages to support her family in Mexico who never ventured to California as she had. She will be lovingly remembered and dearly missed by all who knew and loved her.
Angela is survived by her husband of 50 years, Ramiro; her children Ramiro Jr, Rosario, Imelda, Sandra (George), Marcos (Amber); 15 grandchildren, Aime (Austin), Brianna (Richard), Javier (Marina), Rafael, Cristopher, Jacob, Angel, Julian, Hasmin, Cesar, Gabriel, Natalie, Ramiro, Sophia and Marcos Jr.; 7 great grandchildren, Dexter, Everly, Hazel, Briella, Eden, Lorena and Javier Jr. Her siblings Juan, Sabino, Manuela, Refugio and numerous nieces and nephews.
She was preceded in death by her parents Isidoro and Guadalupe Hernandez; her brothers; Pedro, Gabriel, Luis, Jorge, and her sister Benita Hernandez.
Vigil Service and Prayer, will be held on Friday January 20, 2023, at 6:00 pm at Perez Funeral home located at 600 Central Ave., Fillmore, CA. A Rosary and Mass will be held on Saturday, January 21, 2023, at 9:30 am at St Francis of Assisi Church located at 1048 Ventura St., in Fillmore, reception to follow at St Francis of Assisi Hall.
Our family would like to thank every single one of you that prayed for us and continue to do so, and for the love and support from all of you during this difficult time.