Obituary
Ana Rodriguez de Diaz (1929-2020)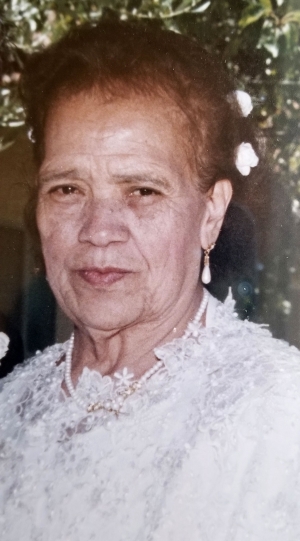 Ana Rodriguez de Diaz (1929-2020)
In the early morning hours of Valentine's Day, our beloved mom and grandma passed away peacefully in her sleep and was reunited with the love of her life, Pedro Diaz. Ana Rodriguez de Diaz was born on February 10, 1929, in Tangancicuaro, Michoacan, Mexico to Antonio Rodriguez and Maria de Jesus Lopez. Pedro and Ana met in their hometown and began their relationship after Ana accepted a flower from Pedro while they walked through the town plaza. They were married on July 27, 1949, and together they had seven children. During the 1950's Pedro took the opportunity to come to California to work as part of the Bracero Program, while Ana and the kids stayed in Mexico. While Pedro was working in the United States Ana took on the responsibility of caring for the kids. She made their clothes, made sure they went to school, did their homework and their chores. In order to provide extra income for the family, she made clothes for other people in town as well as making and selling jello and bread. In July 1969 Pedro fulfilled Ana's wishes and obtained legal residency for the entire family. It was always said that it was important for them to come together and all at once. They made their home in Fillmore, California and were married for 62 years. Ana enjoyed crocheting, listening to Los Huracanes del Norte, Mariachi music, taking care of her family, her house and her birds. She was more than just our mom and grandma, she was the glue that held us all together. Sundays were spent at grandma and grandpa's house, as were all the holidays. We are filled with a lifetime of these memories that will never be forgotten. Ana leaves behind a beautiful legacy of seven children: Luz & Javier Alcaraz, Luis & Jenny Diaz, Ramiro & Trini Diaz, Rafael & Lupe Diaz, Ramon & Eva Diaz, Ana & Agustin Campos, Pedro Diaz & Sami Tarrab; 16 grandchildren and 16 great-grandchildren.
Our family would like to acknowledge and thank the Greenfield Care Center of Fillmore and the hospice staff who took such good care of our mom for the past month. Thank you for your kindness, patience, and for allowing us to be with her at all hours.
Vigil service and Rosary will be held on Monday, February 24th at 7:45 pm at Saint Francis of Assisi Church. Mass will be on Tuesday, February 25th at 10:00 am also at Saint Francis Church. Interment to follow at Bardsdale Cemetery.