Obituary
Alvin John Merkord (1918-2014)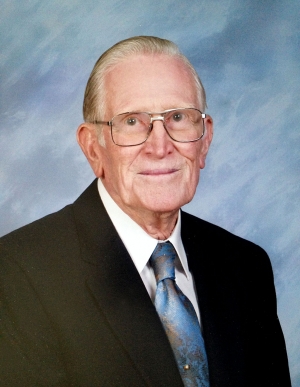 Alvin John Merkord (1918-2014)
Alvin John Merkord, age 95, passed away on July 20th, 2014 in Fillmore, California. He was born August 11, 1918 in Robstown, Texas to Karl and Ida Merkord. He was preceded in death by his parents; his wife, Dorothy Mae; daughter Linda Kay; seven sisters, Clara Merkord (Fritz), Frieda Ahrens (Edwin) Emily Shepherd, Annie Urban (Albert), Alma Yeager (Dewey), Amanda Jones (Virgil), Adele Novosad (Henry); and three brothers, Ernest, Herbert and Edwin.
He is survived by two sons, Randall Lynn and Ronald Lee; daughter-in-law Lisa; two granddaughters, Rachel Saint-Cyr and Rebekah Le Gall; two grandsons, Philip Merkord and Jacob Merkord; two great-grandchildren, Ella and Julien Saint-Cyr; and many nieces and nephews and a host of friends.
He served in the infantry in Europe in World War II. He was awarded the Purple Heart, Bronze Star, three battle stars, Combat Infantry Badge, and a commendation as a company commander in charge of troops being sent overseas in combat. After five years in the military he received his discharge with the rank of infantry captain.
After his military service he worked as a chemist for ASARCO, retiring in 1983 as an assistant chief chemist.
In 1948 he joined First Lutheran Church in Corpus Christi and was a member for 50 years until the church was closed. He served as a Sunday School teacher and superintendent and a council member for 40 years, many as chairman.
In 1953 he married the love of his life, Dorothy Mae Blaschke, a piano and organ teacher until her death in 1989, during which one daughter and two sons were born. He was a devoted husband, father, grandfather and great-grandfather.
In 2000 he moved to Fillmore, California to be with his sons, Randy and Ron, daughter-in-law Lisa and grandson Jacob.
Burial will be in Seaside Memorial Cemetery in Corpus Christi, Texas.