Obituary
Alfonso Anguiano Arroyo (1928-2012)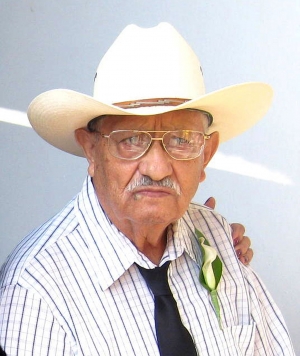 Alfonso Anguiano Arroyo (1928-2012)
Alfonso Anguiano Arroyo was born August 2, 1928 and went to be with our Lord on June 24, 2012. His devoted wife and his loving family surrounded him.
Alfonso was born in Tendeparacua, Michoacan in Mexico to Julia Anguiano and Jose Arroyo. He came to the United States in 1947, and met and married the love of his life, Carmen Reyes (Arroyo). They had 60 wonderful years of marriage. Not to say it was perfect, but it was filled with love, forgiveness and much laughter. Together they raised 12 children, Jenny Romo, Mary Flores, Daniel Esquivel, Carmen Ortiz, Joe Arroyo, Ana Pari, Armando Arroyo, Arthur Arroyo, Annette Fox, Albert Arroyo, Alisia Arroyo, and Amie Bradford. They also enjoyed 25 grandchildren and 18 grandchildren.
Alfonso was a very hard working man, who always took pride in providing for his family. Together with his wife, he bought his very own home in 1963. He loved being in his yard, gardening, planting fruit trees, and caring for his famous roses. Everyone that knew him knew that his fruit from his yard was delicious! He had oranges, lemons, grapefruit, strawberries, tomatoes, grapes, and pomegranates to name a few.
He loved sports and always made time to be there for his children and grandchildren's sporting events. He loved attending the Fillmore Flashes football games, Little League games, and Fillmore Raider games. His favorite sports teams were the Los Angeles Dodgers, The Los Angeles Lakers, and The Los Angeles (now St. Louis) Rams. He was a long time member of the Knights of Columbus and was a volunteer for the Meals on Wheels program.
Alfonso's life was filled with much laughter and love. When we remember him we will always remember how as much as he tried to show that macho side of him, he was a very loving man to all of us. We all hold our own special memories of him in our hearts. We are at peace knowing that he is now with our Heavenly Father and is no longer in pain. He is free to walk, and garden up in heaven now.
Our family would like to send a huge THANK YOU to Vista Cove and their hospice staff who cared for our father in his last days. They were a tremendous amount of comfort to both our father and our family. They went above and beyond to make us all happy and comfortable during a difficult time. We will forever be grateful.
Isaiah 41:10- Fear not, for I am with you; be not dismayed, for I am your God; I will strengthen you, I will help you, I will uphold you with my righteous hand…
Viewing is Thursday June 28th at Skillin Carrol Mortuary in Fillmore, Ca from 3-8pm. Rosary will be recited at 6pm. Mass is Friday, June 29th at 10am at St Francis of Assisi Church in Fillmore. Ca. The burial will immediately follow, but it is requested that it be immediate family members only.